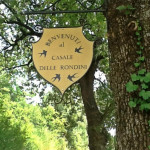 In those early days our knowledge of Olives Trees and their fruit was limited to the products we saw on the local supermarket shelves. The first task was to remove the brambles, overgrown trees and undergrowth so that we could actually see where the Olive grove started and finished.
 Many weeks of  hard work later we knew we needed some expert advice, an offer from the previous owners was quickly accepted and the expertise arrived in the shape of  two willing and very knowledgeable Marchigiani who had been tending and caring for olive trees for all their working lives. What followed, was for Francesco an intensive  course in the art of Olive tree pruning and a lesson in the secrets and skills that the masters had learnt during decades of caring for what they had such a passion for, the exceptional olive oil made from olives grown in the beautiful hills and valleys of Le Marche and the knowledge that with care their oil would have an amazing taste that could not be bettered anywhere else.
We knew then what our goal was, to get these tired and neglected trees back to their prime, as they would have been some seventy years ago, when somebody cared enough to plant them so perfectly spaced apart to allow them to capture every ray of sunlight that was available.
By now the winter was nearing an end and it was time to practice the new skills we had learnt, all those trees needed a haircut! One by one the height of each tree was lowered and the "wine glass" profile was created with the all important "bird Cage" inside to let them breathe again. Time was of the essence now as the vital growing and producing period was approaching  when pruning had to stop.
It was then that he arrived, a scruffy little stray creature that had the most infectious smiley face we had ever seen, he had come to say hello, so we fed him and thought of a name. We now had a new member of our family to join the two cats Findus and Margot , who were not impressed, but Pongo our lovely little doggy was here to stay. First job the next day….build a kennel.
A manic few weeks followed with all available friends and family roped in to help clear and dispose of the masses of unwanted growth that Francesco was now cutting away in order to achieve our first successful harvest later in the year. When the spring arrived the bulk of the work was done and we had chance to marvel at the masses of wild flowers that were now appearing in the grove, in particular the wild orchids were amazing.
During the summer months the olive blossom turned to tiny little fruits and we hoped as they got bigger and bigger that the occasional high winds and thunderstorms would leave them still on the trees and not on the grass below. We didn't need to worry, they held on tight and turned from a lovely shade of green to a lovely mix of greens, yellows and purples that were just begging to be photographed. We did't disappoint them.
The time we  had anticipated for so long had now arrived, first a trip to the local consorzio (the agricultural merchant), we needed baskets, nets, rakes, ladders and wooden stakes to ensure all those wonderful juicy olives were lovingly harvested for their final journey.
It was the middle of November, the so reliable Italian sunshine was still in abundance and again the friends and relatives all duly arrived with the ingredients for the picnic and the olive picking  that was a new experience for us all. The lovely atmosphere intermixed with wonderful food and of course a few glasses of fine Italian vino ensured a few days of absolute joy for us all.
Olives picked and carefully placed in the new crates then off to the local Frantoio (press) for the final stage, our place in the queue booked and all the olives gently poured into the large crates which were then weighed and lined up ready to go into the press. One hour later, olives sieved, washed, pressed and separated from water we waited at the end of the line freshly bought crusty bread all ready to catch those first drops of amazing greeny golden liquid that now flowed into the containers that we had brought.
We had done it, all that work had come to fruition in those tins of 100% pure virgin  olive oil that smelled so good and tasted like nothing else, especially not like the commercial varieties  that sit on the supermarket shelves after being diluted with who knows what. So many recipes would remind us of those days until once again we harvest that sunshine wrapped up in those amazing little packages.
We have spent the last three years perfecting our skills and absorbing the local knowledge through looking after and picking olives for many other olive grove owners in Le Marche, we now want to share that knowledge and the end result with other discerning people who will appreciate a product that is so genuine and special.